Venezuela is not Ukraine
Venezuela's struggle is widely misrepresented in western media. This is a classic conflict between right and left, rich and poor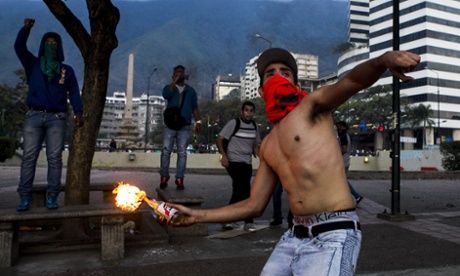 The latest official numbers have eight confirmed deaths of opposition protesters, but no evidence that these were a result of efforts by the government to crush dissent. At least two pro-government people have also been killed, and two people on motorcycles were killed (one beheaded) by wires allegedly set up by protesters. Eleven of the 55 people currently detained for alleged crimes during protests are security officers.
Eleven years since the oil strike, the dividing lines in 2002 have not changed all that much. There is the obvious class divide, and there is still noticeable difference in skin color between opposition (whiter) and pro-government crowds – not surprising in a country and region where income and race are often highly correlated.
In the leadership, one side is part of a regional anti-imperialist alliance; the other has Washington as an ally. And yes, there is a big difference between the two leaderships in their respect for hard-won electoral democracy, as the current struggle illustrates. For Latin America, it is a classic divide between left and right.