Desmond Tutu calls for anti-apartheid style boycott of fossil fuel industry
Nobel peace prize winner calls for organisations to cut ties with industry and for investors to dump fossil fuel stocks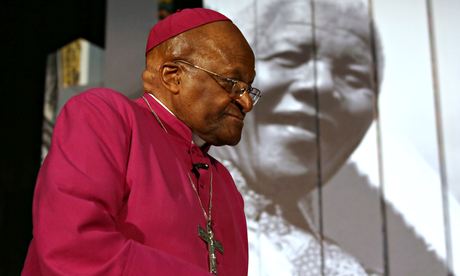 The Nobel peace prize winner also called for investors to dump their fossil fuel stocks: "It makes no sense to invest in companies that undermine our future. Already some colleges and pension funds have declared that they want their investments congruent with their beliefs."
The draft says emissions of carbon dioxide and other greenhouse gasses grew nearly twice as fast over the last decade as in the previous 30 years. Emissions grew 2.2% a year on average from 2000-2010, compared to 1.3% a year over the period from 1970-2010. In 2010-2011, global emissions from burning fossil fuels grew 3%.
The research has shown that past divestment campaigns succeeded by stigmatising their targets – using "moral pressure" according to Tutu – and exerting financial pressure.
"Those who profess to care for the health of people perhaps have the greatest responsibility to act," wrote Sabaratnam Arulkumaran, president of the British Medical Association, and Fiona Godlee, editor in chief of the British Medical Journal. "Firstly, we should push our own organisations – universities, hospitals, primary care providers, drug and device companies – to divest from fossil fuel industries completely and as quickly as possible and reinvest in renewable energy sources."
Tim Ratcliffe, European divestment coordinator for the campaign group 350.org, said: "It was a turning point when physicians spoke out against investments in the tobacco industry. This should serve as a wake-up call to investors to pull their money out of high-carbon assets."
The Norwegian finance ministry, which manages the $850bn fund, said: "An expert group will evaluate whether the exclusion of coal and petroleum companies is a more effective strategy for addressing climate issues and promoting future change than the exercise of ownership and exertion of influence."
The bubble risk exists because only a third of the reserves currently on the books of fossil fuel companies can be burned if the world is to have a good chance of restricting climate change to 2C, a goal to which the world's governments are already committed. If global action is taken to slash carbon emissions those reserves become worthless, or "stranded assets".
Citi bank, HSBC, Deutsche Bank and Goldman Sachs, as well as ratings agencies Standard and Poor's and Moodys, are among the big financial players who have already warned investors of the carbon bubble risk.
The leaked IPCC draft, seen by the Guardian, says this trend of rising investment in fossil fuel extraction and power plants needs to switch into reverse, falling by $30bn a year until 2030, if carbon emissions are to be cut sufficiently to have a good chance of limiting climate change to 2C.
At the same time investment in low-carbon electricity supplies, such as renewables and nuclear, will have to rise by $147bn a year, while investment in energy efficiency in transport, buildings and industry will have to increase by several hundreds of billions of dollars a year.
In the US, five coal mining companies, equal to $4bn in assets, have filed for bankruptcy since 2007, while from 2011-2013 coal stocks in the US fell 60%. However, the shale gas boom in the US has been a significant factor in making coal uneconomic.
"Investors now know that ExxonMobil is not considering a low-carbon scenario in its planning, which places shareowner capital at risk," said Natasha Lamb, director of equity research and shareholder engagement at Arjuna Capital, which helped force the disclosure. "We want to engage the companies head-on so there is not a calamity, as we got with the tech bubble, the financial services bubble and the housing bubble. But if Big Oil can't redirect capital to low-carbon energy alternatives, investors will [by divesting]."
BP, Shell and Total are all discussing the carbon bubble risk publicly to some extent but Chevron has refused to do.
Carbon Tracker research suggests carbon capture and storage – which would clean up fossil fuel burning by burying its emissions – will be able to deal with just 4% of total global reserves.
"There is a momentum gathering," Leaton said. "Whether it is investors in Australia or Norway, people have seen there is less upside to coal and the amount of capital expenditure going into coal seems to have peaked. We're really pleased that there is now a recognition that doing nothing and hoping it will be all right is not an option."